For many years (approx 30,000 years), dogs have been human's best companion and loyal pet too. For centuries dogs have worked side by side with humans. May be you are first time puppy owner. You may know that the dog is not only playful, friendly, loyal but deadly dangerous too. Depending on the animal's upbringing, temperament and circumstances, any dog can be a threat to human. They are descended from wolves, bred by humans and consequently became one of the most loyal and dangerous animals. Here we are sharing "15 World's Most Dangerous Dog Breeds list", So if you see any of these listed dogs in angry mode, just stay away and behave calmly.
1. American Pit Bull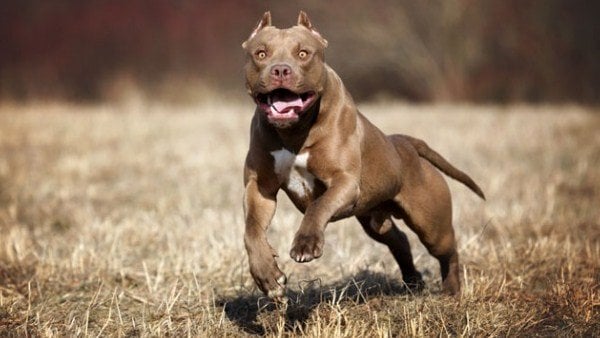 Very pugnacious breed, one of the most dangerous dogs, banned by many countries in the world is American pit bulls. This medium-sized, solidly-built, intelligent, short-haired dog, (whose early ancestors came from the British Isles), is one of the most dangerous breeds of dogs in the world. In order to prevent aggressive outbursts, they are required to undergo several extensive and training exercises. The essential characteristics of the American Pit Bull Terrier are strength, confidence, and zest for life. The APBT is not the best choice for a guard dog since they are extremely friendly, even with strangers, but on the contrary aggressive behavior might be extremely dangerous for kids and humans. This breed does very well in performance events because of its high level of intelligence and its willingness to work. Also A study released in 1991 found that 94% of the attacks on children by pit bulls were unprovoked. You might need to think twice before adopting a pit bull as a pet companion.
Go to the next page to see more (Button is below)
---